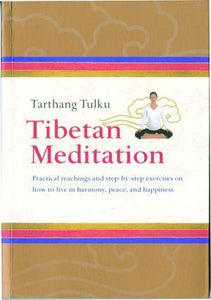 Dharma College
Tibetan Meditation
Regular price
$21.95
$0.00
The key to solving most of life's problems lies in understanding the mind – a state of open awareness. We can connect with this awareness, rid ouselves of negative judgements, and free ourselves from anger, frustration, and pain.
Tibetan Meditation offers practical essays, step-by step exercises, and many illuminating stories. We learn how to prepare mind and body for meditation, let go of fear and anxiety, be more honest and compassionate, transcend the illusion of time, and become more focused and at the same time more relaxed.
This new compilation of teachings by Tarthang Tulku features beautiful design, figure photography, original art details, and illustrated stories. It addresses all aspects of meditation: what it is, the attitudes that help us benefit from it, and how to establish and sustain a satisfying practice. This is an unusually practical and straightforward introduction to basic priciples of meditation, the nature of mind, and the importance of taking responsibility for our attitudes and emotions.
Practitioners at all levels will benefit from the scope of the exercises and techniques, from postures, breathing practices, and mantra to mindfulness, visualization, watching mind, and dream yoga.
"Meditation is something you do for yourself – for your own balance and health. All I can do is direct, point, and give advice, challenging your assumptions or pointing out more productive ways to proceed." -Tarthang Tulku
---
Share this Product