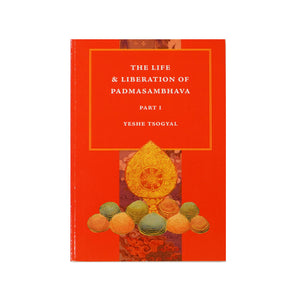 Dharma College
The Life and Liberation of Padmasambhava Vol I
Regular price
$60.00
$0.00
The Life and Liberation of Padmasambhava, a terma concealed by the Great Guru and recovered in the fourteenth century by Orgyen Lingpa, is a treasury of esoteric teachings related in highly symbolic poetic form. On one level it presents a biography of Padmasambhava and recounts the introduction of the Dharma to Tibet. On a deeper level, accessed through meditation and realization, it conveys insight into the multidimensional aspects of time, knowledge, and consciousness that the Great Guru embodies. While language cannot convey the full scope of its meaning, this text is important for students of the Nyingma tradition. Fifty-eight thankas included enhance understanding of this extraordinary master, who is "never far from those with faith, or even from those without it."
Rich in names of persons, contributions, practices, and locations, this text is a valuable resource not only for the history of Buddhism in Tibet, but also for conveying the spiritual environment created by the blessings and activities of the Great Guru and his disciples. Read and re-read, contemplated and carried in heart and mind, meanings sealed into the Tibetan text begin to emerge, however palely they may be reflected in the English translation.
This biography of Padmasambhava, the founder of Tibetan Buddhism, is a translation of the Padma bKa'i Thang recorded in the eighth century by his closest disciple and consort, Yeshe Tsogyal. The richly symbolic account in 108 cantos sets forth the stages of his life, which reveal the stages of the path to enlightenment. Vivid description of the establishment of the Dharma in Tibet. Translated by Kenneth Douglas and Gwendolyn Bays from Toussaint's French, corrected with the original Tibetan. Recommended for all students of the Vajrayana traditions.
---
Two volumes
58 color plates
ISBN 978-0-89800-422-9
832 pp.
---
Share this Product