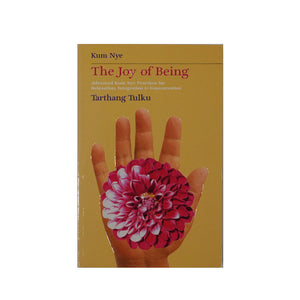 Dharma College
The Joy of Being
Regular price
$19.95
$0.00
"In mastering Kum Nye, we learn how to benefit from all manner of experience; we gain confidence that is grounded in self-knowledge and establish a foundation of joy that can sustain us throughout our lives.  We learn what it means to be complete in ourselves: We discover what it means to BE." 
The Joy of Being goes beyond the purely physical aspects of relaxation to directly convey the joyful, wide-awake flavor of meditation.  Tarthang Tulku guides the reader on an experiential exploration of the operations of body, senses, perceptions, and mind.  Contains forty new Kum Nye exercises with step by step color photographs.  This is the sequel to Kum Nye Tibetan Yoga.
"While some orientation is helpful, words alone cannot connect you with Kum Nye: it is the practice that gives you the direct experience, and it is the experience that enables you to transform the quality of your life." 
In The Joy of Being, Tarthang Tulku offers more than forty physical, sensory, and mental exercises that introduce us to new dimensions of enjoyment and pleasure.
more than forty exercises and practices
step-by-step figure illustrations photographed in full color 
The Tibetan lama Tarthang Tulku introduce Kum Nye to the West in the early 1970's.  Tarthang Tulku Rinpoche is the author of over twenty five books, including Kum Nye -  A Tibetan Yoga, Gesture of Balance, Openness Mind, Knowledge of Freedom, the Time, Space & Knowledge series, and Revelations of Mind. 
---
Share this Product