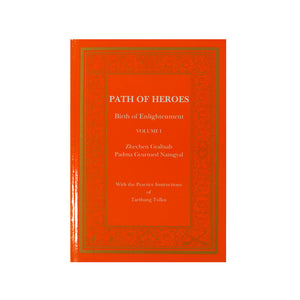 Dharma College
Path of Heroes -- Birth of Enlightenment Volume 1
Regular price
$48.00
$0.00
A commentary by the nineteenth-century Tibetan master Zhechen Gyaltsab on the Seven Essentials of Self-Mastery, a famous text by the twelfth-century Kadampa master Chekhawa Yeshe Dorje.
This powerful introduction to the heart of Buddhist practice presents the Tong Len (unconditional giving and taking on the suffering of others) system of developing Bodhicitta, the mind of enlightenment.
Commentaries by Tarthang Tulku on each of Zhechen Gyaltsab's thirty-four chapters bring these ancient teachings into modern life, illuminating the timeless blessings of the Bodhisattva path
--
"This text provides Zhechen Gyaltsab's (1871-1926) commentary on a seven-point Buddhist practice taught by Chekhawa Yeshe Dorje (1101-75) the most extensive commentary in the Tibetan canon on a root text studied by all schools of Tibetan Buddhism.
Volume 1 focuses on preliminary practices, such as devotion to the teacher and gaining detachment by seeing the impermanence of everything; Volume 2 covers all other practices. The key is to generate Bodhicitta, the enlightened mind for the sake of others. This "path of heros" is cultivated through lojong, or self-mastery.
Each section is introduced by Tarthang Tulku, the founder of Nyingma Institute and Dharma Publishing. His reflections aid the student in applying the beautifully stated precepts. A four-month study program closes the text. Highly recommended for informed readers and scholars." - Dara Eklund, Los Angeles P.L.


---
Share this Product