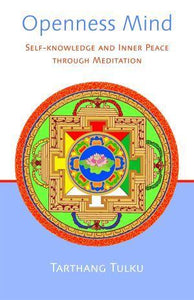 Dharma College
Openness Mind
Regular price
$15.99
$0.00
Self-Knowledge and Inner Peace through Meditation
For the many people searching for ways to improve the quality of their lives, Openness Mind clearly explains the value of meditation and how to proceed with its practice. 
Defining meditation as a way of opening our minds to the richness of experience, this book emphasizes a practical approach that anyone can apply to develop awareness, transcend the limitations of self-image, improve concentration, and effect positive changes in their way of being. 
The chapters on Thoughts, Patterns, The Moving Tapestry of Dreams, and the Dream Lotus exercise offer ways to expend our understanding of reality and the nature of mind; Dimensions of Meditation engages questions commonly asked by beginning meditators. 
Tarthang Tulku, formally educated in the Buddhist tradition in Tibet, is a pioneer in introducing the benefits of meditation to Westerners of all backgrounds and lifestyles.  As founder of the Nyingma Institute, he is well-known for his innovative programs in Human Development.  His writings include Gesture of Balance; Skillful Means; Time Space, and Knowledge; Love of Knowledge; and Milking the Painted Cow.
---
Share this Product