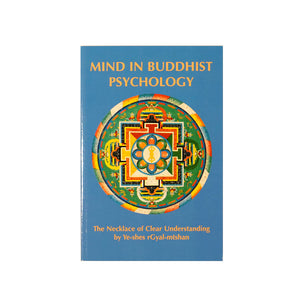 Dharma College
Mind in Buddhist Psychology
Regular price
$16.95
$0.00
What is the mind?  And how does it function?  Of what does personality consist?  And what gives personality its direction and character?  
From the meditative and analytical tradition of Tibet comes this penetrating insight into the human mind, the basis for self-knowledge.  Mind in Buddhist Psychology investigates in clear, simple terms the recurring patterns lead to emotional imbalance and which lead to peace and calm.  
In striking contrast with contemporary Western theories of consciousness and motivation, Mind in Buddhist Psychology presents a practical guide to the functioning of the mind in daily life situations. 
"Until we thoroughly examine the nature of our mind, we cannot really be aware of who we are or why we are here.  Without an awakening into true knowledge, we can only continue to create problems for ourselves and others."  - Tarthang Tulku
---
Share this Product