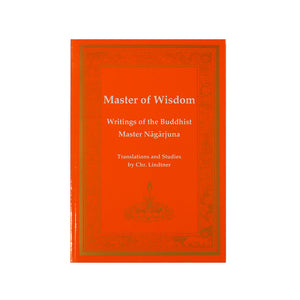 Dharma College
Master of Wisdom
Regular price
$20.95
$0.00
Twenty centuries ago, the famed Buddhist philosopher and teach Nagarjuna drew the profound teachings of Mahayana Buddhism to found a new way of exploring the nature of reality.  The woks composed by this master inspired a tradition of philosophical inquiry that has continued to the present day.  His ideas and teachings, like those of all great thinkers, remain fresh and vital in every age. 
Westerners have usually had to rely on translations of only a few key works in assessing Nagarjuna's thought.  In this book, Dr. Lindtner vastly expands the range of text available to the general reader. The dialectic for which Nagarjuna is famous can be found here, in works that repay serious study with new insights.  But there are also hymns of praise and guides to conduct, as well as texts that clarify Nagarjuna's understanding of the connection between analysis, spiritual practice, and moral conduct. 
In addition to presenting six major new translations, Master of Wisdom contains valuable studies by Dr. Lindtner on thirteen texts.  A concluding essay presents a useful overview of Nagarjuna's thought, placing it in the wider context of Buddhist teachings.  Transliterated Sanskrit and Tibetan editions, a Sanskrit-Tibetan-English glossary, and serval indexes provide valuable reference materials. 
---
Share this Product