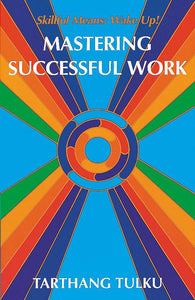 Dharma College
Mastering Successful Work
Regular price
$18.95
$0.00
Successful work activates our talents and intelligence.  It marries knowledge to gut-level commitment, and lets us put our heart and spirit into what we are doing. 
This book shows how to make work into a path of realization and transformation -- an art form that blends practical results, deep enjoyment, and inner fulfillment.  It presents a step-by-step approach to cutting through obstacles and clearing up the negative consequences of past actions.  Immensely practical, it includes over 80 exercises, most of which can be done on the job.
Our actions at work can be jewels of light, illuminating our lives and expressing our own highest values.  In these troubled times, there can be no greater gift to make ourselves, our society, and our world than to put this way of working into practice. 
As a young man, Tarthang Tulku received intensive training in Buddhist philosophy and practice in Tibet.  From 1962 to 1968, he taught philosophy at Sanskrit University in India. For the past twenty-five years, he has lived and worked in the United States, where he has trained himself in a wide range of disciplines.  He is the author of eleven books and the founder of Dharma Publishing and Dharma Press, Nyingma Institute, Odiyan Country Center, and the World Peace Ceremony. 
---
Share this Product