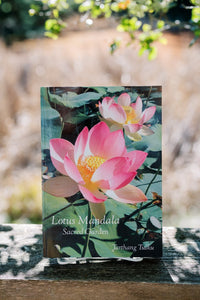 Dharma College
Lotus Mandala
Regular price
$30.00
$0.00
Founded in 1975, Odiyan has become a vibrant mandala of Buddhist art and architecture, magnificent trees, and fertile gardens.  Rich in shapes, colors, and forms, Odiyan's gardens are integral expressions of a profound spiritual message: every leaf, every blossom, is a manifestation of sacred principles that can uplift our hearts with joy and unfold ever deeper dimensions of meaning in all we do. 
This book, inspired by the gardens of Odiyan, presents a vision gardening as a path to understanding, a journey that is available with anyone with an open heart.  By caring, by attuning ourselves to the creative momentum of life and growth, we can find both practical and deeply poetic ways to embody transcendent truths and bring them down to earth.
Tarthang Tulku has lived and worked in America since 1969.  One of the few remaining Buddhist lamas who received a complete formal education in Tibet, he has authored, edited, and guided the production of 123 books that include works on psychology and healing, Buddhist philosophy, and Tibetan history and culture.  He has founded eighteen organizations to support the survival of Buddhism in the lands from which it sprang and nurture its contributions to Western ways of life.  Odiyan is his unique vision, a symbolic expression of ancient knowledge blossoming in a new land. 
---
Share this Product