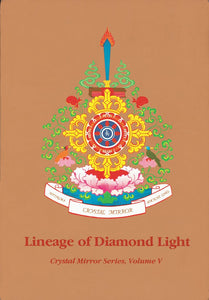 Dharma College
Lineage of Diamond Light -- Crystal Mirror Series Volume V
Regular price
$23.00
$0.00
Lineage of Diamond Light is an overview of Dharma history including the life of the Buddha, the Vinaya tradition, the rise of major schools, Mahayana masters, and the Vajrayana transmission to Tibet. Intended to promote understanding of the sources of Tibetan Buddhism, a major part of this volume focuses on the Dharma lineages brought to Tibet in the 8th to 9th centuries and preserved in the Nyingma tradition. Most of the information is based on traditional texts transmitted by Tarthang Tulku's own teachers.
Rich in detail, this book encourages serious readers to broaden and deepen their understanding of Tibetan Buddhism and appreciate the depth of meanings preserved in this tradition.
This volume includes translations of two texts by Longchenpa: "Now That I Come to Die" translated by H. V. Guenther, and "How the Samsara is Fabricated from the Ground of Being," translated by Kennard Lipman. Also included as a basis for further research and elaboration are listings of Nyingma monasteries and lineage masters, as well as photographs, maps, and line drawings of vidyadharas and masters of the bKa-ma and gTer-ma lineages.
---
Share this Product