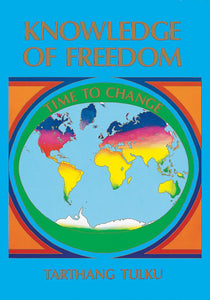 Dharma College
Knowledge of Freedom
Regular price
$20.95
$0.00
A new vision of human freedom; a provocative journey into ourselves, activating the unbounded capacity we have for knowledge.  Accessible to everyone.  With this knowledge, we can take charge of our lives.  Reading this book is like conversing with our own hearts and mind.  Every reader will find a true self-portrait within these pages.  A thoughtful reading illuminates a new living philosophy, touching deepest aspirations. 
Knowledge of Freedom is Tarthang Tulku's most dynamic book to date - a clear and comprehensive guide to exploration of our full human nature.
Tarthang Tulku, formally educated in the Buddhist tradition in Tibet, is a renowned as an innovative teacher and as a visionary, independent thinker.  He has lived in America for sixteen years, where he has directed major educational and publishing projects.  His writings have reached htousands of readers and influenced leading educators, psychologists, and scientists.  Translated into five languages, his books have been adopted for class use in more than 400 colleges and universities worldwide.
---
Share this Product