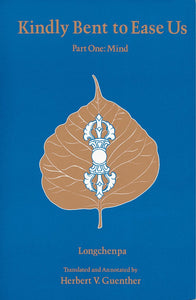 Dharma College
Kindly Bent to Ease Us -- Part One: Mind
Regular price
$18.00
$0.00
There is depth, breadth, and magic in Nyingma thought and its beauty grows the more one studies it.  Longchenpa, one Tibet's greatest masters, exemplifies and transmits the transforming power of these ancient teachings.  His writings shine with a light that radiates compassion and meaning. 
Born in the 14th century, Longchenpa studied with the foremost teachers of his day.  His soon earned the title kun-mkhyen, or all-knowing, and the passage of time has upheld the value of his contributions.  His works, which number over two hundred, order into a comprehensive system the range of philosophical thought and psychological applications of the Dzog chen school, the pinnacle of Vajrayana Buddhism. 
In Kindly Bent to Ease Us Longchenpa offers a guide to enlightenment that begins with traditional reflections on the preciousness of a human existence, finite in time but unlimited in opportunities.  Since understanding mind and its workings is essential for a deeper inquiry into meaning and being, the first part of "The Trilogy of Finding Comfort and Ease" emphasizes insight into the nature of mind.  The translator, Dr. H.V. Guenther, introduces each chapter with explications based on Longchenpa's own commentaries. 
---
Share this Product