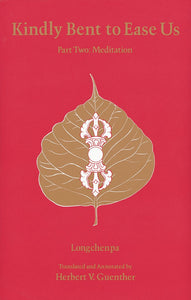 Dharma College
Kindly Bent to Ease Us -- Part 2: Meditation
Regular price
$17.00
$0.00
Meditation, the second volume of Longchenpa's Trilogy of Finding Comfort and Ease, introduces a central practice of Dzogchen, the Teachings of the Great Perfection.  The form of meditation presented here by the 14th-century Nyingma lama revered as an "all-knowing" master is considered the pinnacle of all Buddhist meditative traditions, the "kind of all instructions.' 
Its purpose is to liberate us from mind's restrictive operations, and reveal the unparalleled radiance of awareness.  The experience of this meditation is like the sun emerging from the clouds; it fills the mind with light and transform the practitioner's understanding.
In three richly poetic chapters, Longchenpa first describes the environments most conducive to attaining inner calm and a wide perspective.  Next he outlines the qualities useful for individuals wishing a more meaningful life.  Finally, he distills the essence of the instruction, guiding the meditator to realize 'pure awareness', the pristine quality of mind which reveals itself to us naturally when the agitation of words and concepts ceases, and we engage "an experience as open as the sky." 
In presenting this carefully annotated translation, Herbert V. Guenther, outstanding scholar, professor, and pioneer in Tibetan Buddhist studies in the West, has drawn extensively from Longchenpa's own commentary, which describes how to activate fine, subtle energies and direct them toward the transformation of consciousness.
---
Share this Product