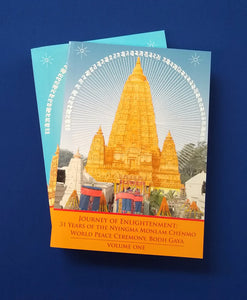 Dharma College
Journey of Enlightnment Vol. 1 & 2
Regular price
$45.00
$0.00
31 Years of the World Peace Ceremony, Bodh Gaya
Since its founding by Tarthang Tulku in 1989, the annual World Peace ceremony in Bodhgaya, India, has brought together tens of thousands of Nyingma monastics and lay practitioners to join in prayer for the benefit of the world.

Each year Tarthang Tulku directs the preparation of a colorful commemorative volume or Deb Ther, that depicts the previous year's World Peace Ceremony. Each volume also includes an English language essay. The present work is a collection of 31 years of these essays.
Very few outside of the Tibetans attending the World Peace Ceremony, have seen these volumes or had the chance to read these essays. For those of us who have worked on the production of the volumes, reading these essays has been a special experience each year.
Dharma Publishing is happy to make these essays available: topics include Tarthang Tulku's description of his life and training in Tibet; deeply devotional depictions of Tarthang Tulku's major teachers; the significance of the World Peace Ceremony; information about texts distributed at the Ceremony; important Tibetan Buddhist lineages; the status of the Dharma in the Tibetan exile community; the promise and pitfalls of Western attempts to integrate Buddhist teachings, and more.

For anyone wanting to gain understanding of Tarthang Tulku's lineage and work to preserve the Dharma in Asia, we recommend these heartfelt essays.
---
Share this Product