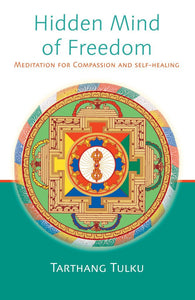 Dharma College
Hidden Mind of Freedom
Regular price
$15.99
$0.00
Meditation for Compassion and Self-Healing
The mind provides us with a vital energy that responds to every nuance of human experience.  When we understand the nature of the mind and appreciate its flexibility, we can shape the directionality of this energy, and respond more creatively to whatever life presents.  Awareness of mind's hidden resources opens a gateway to lasting freedom and peace, our only true refuge in an often crowded and frustrating world. 
Hidden Mind of Freedom helps awaken our inner resources through meditation and self-observation.  Clear, intimate talks remove barriers to self-understanding and show us how to activate the healing qualities latent within the mind.  Simple breathing techniques, mantra, and visualization exercises foster deep relaxation, promoting clarity and concentration.  Insight flows more naturally, brightening vistas of inner freedom. 
Tarthang Tulku, formally educated in the Buddhist tradition in Tibet, is a pioneer in introducing the benefits of meditation to Westerners of all backgrounds and lifestyles.  As founder of the Nyingma Institute, he is well-known for his innovative programs in Human Development.  His writings include Gesture of Balance; Openness Mind; Skillful Means; Time, Space and Knowledge; Love of Knowledge, and Milking the Painted Cow.
---
Share this Product