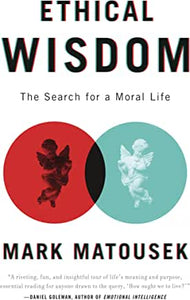 Dharma College
Ethical Wisdom
Regular price
$15.95
$0.00
From a bestselling author—"a riveting, fun, and insightful tour of life's meaning and purpose, essential reading for anyone drawn to the query, 'How ought we to live?'" (Daniel Goleman, author of Emotional Intelligence)

Contrary to what we've been taught in our reason-obsessed culture, argues Matousek, emotions are the bedrock of ethical life; without them, human beings cannot be empathic, moral, or good. But how do we make the judgment call between self-interest and caring for others? What does being good really mean? Which parts of morality are biological, which ethical? When should instinct be trusted and when does it lead us into trouble? How can we know ourselves to be good amidst the hypocrisy, fears, and sabotaging appetites that pervade our two-sided natures?

Drawing on the latest scientific research and interviews with social scientists, spiritual leaders, ex-cons, altruists, and philosophers, Matousek examines morality from all angles in this thoroughly entertaining and helpful guide to crossing one's own murky moral terrain.
---
Share this Product