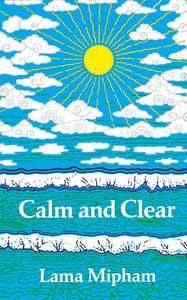 Dharma College
Calm and Clear
Regular price
$14.95
$0.00
Calm and Clear is a unique exposition of the Nyingma method of meditation.  Translated from original Tibetan, it comprises two practice-oriented meditation texts by Lama Mipham (1846-1914), one of the most brilliant teachers in Tibet's history.
In search for the nature of reality, "The Wheel of Analytic Meditation" employs a traditional Buddhist analysis of the body and mind to dissolve conditioned concepts and unexamined assumptions which inhibit deep understanding.  "Instructions on Vision in the Middle Way" is a continuation text which is intended to lead the serious student step-by-step in the practice of meditation.
Mipham, a famous Nyingma lama of the 19th century, was a major contributor to the intellectual movement that stimulated a scholastic and practice-oriented revival throughout all of Tibet.  Following directly in his lineage, Tarthang Tulku Rinpoche, founder of the Tibetan Nyingma Meditation Center and the Nyingma Institute in Berkeley, California, supplies an extensive commentary on each of the verses.
---
Share this Product