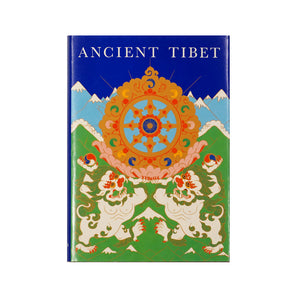 Dharma College
Ancient Tibet
Regular price
$29.95
$0.00
Surrounded by snow-covered peaks that rise against brilliant turquoise skies, the land of Tibet is a reflection of the natural power and beauty of the earth. In this peaceful atmosphere many centuries ago, the Tibetan people created a remarkable civilization, inspired both by the power of nature and the most profound religious traditions of mankind.  This deeply spiritual cultural continues even today, for Tibetan people all over the world share an ancient heritage. 
Ancient Tibet offers an introductory history of this land and its people, covering the earliest periods of Tibetan history up to the ninth century.  The formation of the land and the evolution of the environment over geologic time are described in summaries of recent scientific research of the Tibetan plateau.  The origin and development of the Tibetan tribes and their early kinds are discussed, following the accounts of authoritative Tibetan histories.  A survey of the political and cultural accomplishments of the Tibetan people in the ear of the Dharma Kinds is based on eighth and ninth century Tibetan documents as well as the records of Tibet's neighbors and other sources.

This survey of the oldest periods of the Tibetan history gives the general reader a balanced overview and provides a good background for those interested in the further study of Tibetan culture and civilization.
---
Share this Product