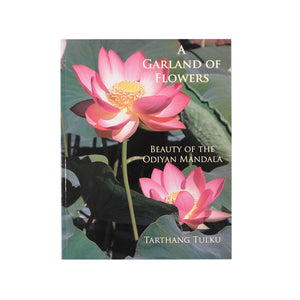 Dharma College
A Garland of Flowers
Regular price
$24.95
$0.00
Beauty of the Odiyan Mandala
A Garland of Flowers – Beauty of the Odiyan Mandala, by Tarthang Tulku offers memorable glimpses of the expansive gardens and landscapes of the Odiyan Retreat Center, an extraordinary mandala of temples and gardens in Sonoma County, California. A contemplative photo essay celebrating the beauty of nature and its capacity to heal the human spirit, the book begins by inviting readers to cultivate aesthetic appreciation through observing the perfection of beauty in nature itself. Our feeling of wonderment in the face of nature's beauty marks a return to innocence, and nourished by this natural wholesomeness, the heart and mind move toward transformation.
Tarthang Tulku Rinpoche explains how much of human suffering is due to a problematic relationship with beauty itself. By retraining the senses to engage in a "deep seeing" that revels in the intrinsic beauty of each moment of experience, we can expand our capacity for awareness, joy, and self healing. Repeatedly inviting readers to see for themselves, Rinpoche urges us to trust direct inner experience rather than following external instructions.
A non-conceptual, living and growing appreciation for beauty moves through wholeness toward holiness, a sense of the sacred actively surrounding and supporting us. Glimpsing the possibility of such love flowing into our everyday world opens the heart to the blessings of the Enlightened Ones. With its gorgeous images and uplifting words, this photo album recording Rinpoche's own love affair with beauty demonstrates that in the simplest moments.
---
Share this Product